Demystifying decarbonisation: green leases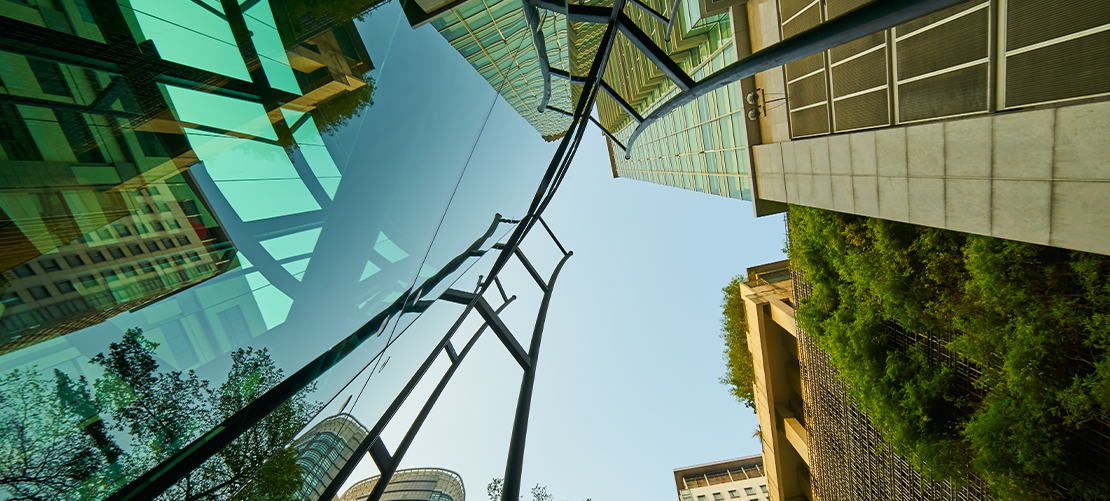 Decarbonisation and the drive to net zero affects every person and every business. Our cross-practice international team of lawyers at Stephenson Harwood can help you both navigate through these challenges and help your business make the most of the opportunities no matter where you are on your journey.
Part of the journey is understanding the sometimes confusing and constantly evolving jargon that often surrounds the topic of climate change and decarbonisation. Our Demystifying decarbonisation series breaks down the key terms, policies, regulations and drivers that businesses need to know.</
According to the UN Environmental Programme, the real estate sector contributes nearly 40% of all carbon dioxide emissions. Unsurprisingly, the sector is therefore under increasing pressure to improve sustainability and transition towards a greener, more environmentally conscious, future. This has led to a move towards "green leases".
What is a 'green lease'?
A 'green lease' is a lease that incorporates provisions aimed at improving the sustainability of a building whilst also reducing its environmental impact. This broad definition incorporates a range of landlord and tenant mutual goals, responsibilities, and obligations. Depending on how onerous the environmental obligations are, the leases are categorised as being either "light green" or "dark green".
'Light green' clauses typically include commitments from the landlord and tenant to meet to discuss energy saving processes once a year and agree to share data on energy usage at the property. These provisions are not particularly onerous and, in substance, represent little more than a statement of intent to work together to improve environmental performance.
Light green leases also include negative obligations, for instance prohibiting the tenant from carrying out alterations that negatively affect the energy performance of a building.
In contrast, 'dark green' provisions are more onerous. Dark green leases create legally binding positive obligations requiring parties to carry out specified green actions. Examples of dark green provisions include requirements to increase the EPC rating of the premises to, say, a "B" rating within one year of the grant of the lease, or an obligation to keep greenhouse gas emissions from the premises below a specified level or to only use sustainable materials when carrying out fit-out works.
Given that dark green provisions are more onerous and require parties to incur hard costs in order to comply, they are currently not market standard. At present dark green leases are rare although there are signs that this may be starting to change.
Incorporating green lease obligations often has a knock-on effect in relation to other lease clauses, including those relating to alterations, service charge and reinstatement. It will therefore be essential to find a balance which is tailored to the type of building, its proposed use, the length of lease and the specific landlord/tenant.
Benefits of 'green leases'
The benefits of green leases are obvious – the green provisions help reduce the carbon emissions and improve the sustainability credentials of buildings.
Additionally, for landlords and tenants alike, green leases are seen as beneficial for achieving the following aims:
Fulfilling a party's ESG aims;
Improving the company's redputation for being green/sustainable; and
Reducing running costs of the property as a result of the energy and resource saving measures.
Challenges facing green leases
Whilst the need for leases to contain environmentally conscious provisions is clear, there are numerous challenges facing landlords and tenants:
The economic climate (inflation, borrowing costs, Brexit, Covid-19 and market uncertainty) has had an impact on tenant/landlord priorities and may have pushed green/sustainability considerations down the list; and
Cost uncertainty – who should pay for expensive improvements or monitoring required by the lease? Often the landlord will not wish to pay for energy performance improvements which mainly benefit the tenant through decreased running costs. However, the tenant of a shorter commercial lease may not enjoy the full benefits of expensive work being carried out. Compromises will need to be negotiated.
The current market position
One way in which to identify the current standard sector terms is to review the Model Commercial Lease templates. These are drafted by lawyers, landlords and trade organisations with a focus on achieving a fair compromise between landlord and tenant interests. Currently they contain the "light green" provisions, requiring:
The landlord and tenant to cooperate to improve the environmental performance of the premises
The landlord and tenant to establish an environmental forum to discuss targets, strategies, building energy performance and relevant data sharing
Sharing of data between the landlord and tenant (as well as agreed third parties) that relates to the building's environmental performance
The tenant to consider energy performance when proposing work to the premises.
Given the challenges associated with dark green leases, it is likely that tenants and landlords will be increasingly keen to include these light green lease provisions which are less controversial and have limited expenditure requirements.
Looking forward
The use of green leases is one of the tools that the real estate sector will use to help combat climate change.
With the EPC requirements set to become increasingly onerous, green lease provisions will help achieve increased energy efficiency at a property.
The market is evolving and, if parties show increased willingness to accept the significant costs of improving environmental performance, a transformation from light green to dark green leases could begin.
Our decarbonisation team
At Stephenson Harwood, we have market-leading expertise in three sectors that will be the key pillars in decarbonising and achieving net zero:
energy,
transportation and trade, and
the built and natural environment.
This gives our clients the benefit of cross-sector insights as we support them on their pathway to net zero.
Our decarbonisation team is international, with specialists spread across eight offices in Europe, Asia and the Middle East. When coupled with our strategic relationships with other key independent law firms, this means we can support our clients wherever their business interests are based.
© Stephenson Harwood LLP 2023. Information contained on this page is current as at the date of first publication and is for general information only. It is not intended to provide legal advice.